Use immersive green screen pop-up zones to engage passers-by and get your marketing message OnGround, OnLine, OnScreen and OnPrint during your experiential campaigns
SNAP! There's something about having our photo taken that gives us that immediate rush (especially straight after uploading it to social media then agonizingly waiting for our friends feedback).
We want to look our best and straight after the click we want to savour the moment and look back on it in years to come with nostalgia and fond memories.
Whether it's standing in front of a beautiful panoramic landscape or capturing the precise moment we're with our closest friends at a party or even a shameless selfie complimenting our body in all its glory – the best angles, the subtle lighting, the complimentary filter, the 430th take.
Ah, perfection.
In this post I'm going to discuss 4 ways brands can instantly engage with their target audience and give them long-lasting brand memories using fully customized, customer focused green screen photo booths.
WATCH FANS REACTION TO THE BACARDI 'UNTAMEABLE' XPERIENCE
OnGround – Click with People then Click the Shutter
Over Halloween we set up a customized photo booth for Bacardi in down town Toronto. And a few months ago we did the same for Two Oceans at the Beaches Jazz Festival.
Both businesses wanted to use a proven experiential technique to grab the attention of passers-by and get them actively involved with the brand.
In order to drive traffic and optimize consumer engagement, positioning these booths in key locations is vital. It's about catching target audiences in their worlds and instantly making a big impression.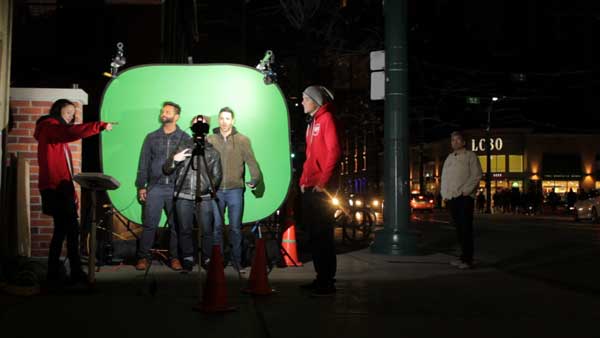 First, friendly brand ambassadors usher people towards the green screen zone explaining the deal. Then they choose their background, which gives the experience a touch of personalization and hands over control to the end user.
They pose. Wait for the flash. Then share it.
OnLine – 1 Photo. Unlimited Reach

More and more brands are finding it harder than ever to earn a coveted place on their customers social media pages. They want to be part of their audiences story but at the same time make the connection feel authentic and personal.
A guerrilla pop-up photo booth has the power to do both. Let customers directly engage with the brand by making it their own tailored experience giving them more reason to share the real world interaction online.
Guests provide a few personal details – name, email address or mobile number. Then with a few quick fire taps, they can post the photo to their Facebook and Twitter pages or send it directly to their inbox.
Now they can share their fun filled snaps with the rest of their online communities racking up those all-important likes and comments.
But the sharing didn't stop there. We went big…
OnScreen – Get your Face on the Wall of Fame
After guests huddle, pose and laugh in front of the camera they then have the option to blast it on the big screen. Using a HD projector the photos beam onto the opposite wall for everyone to see.
People nearby point. Cars cruising past honk. And those with their faces on the wall smile and cheer!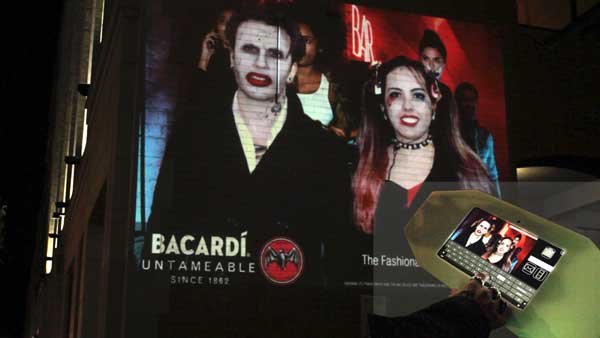 People even photographed their snaps of the wall and uploaded it to their Snapchat story to extend brand reach even further.
This is what experiential marketing is all about. Pumped up enthusiastic guests, having fun and installing positive brand associations through live experiences. Putting them in the spotlight for a memorable moment is what drives deeper brand affinity.
And seeing it amplified on the big screen on nearby buildings gives brands maximum real world amplification. It's infectious and other people want in on the action.
OnPrint – A Printed Photo. Remember those?
Giving fans a high quality photo is a great way to leave a lasting brand impression. This is a parting gift that is personalized and becomes a memorable take away from the photo booth experience.
Guest don't have to wait long to get their hands on their photo. At the Two Oceans booth we immediately printed it on-site for them to take home straight away.

Companies also have the option to watermark the template with customized branding including logos, slogans and hashtags.
Tracking Photo Booth Shots with Purpose
For both campaigns we successfully engaged on average 200-300 people each day. Not including other bystanders and moving traffic. 1/4 of those we interacted with shared their photos on social media, amplifying reach x10-50.
Another way to increase engagement and drive on-site sales is to offer coupons and discounts. Or let fans enter a competition to reward them for their participation. Build stronger relationships with your customers by tailoring the email to the experience.
These kind of interactions allow you to carry on the conversation in more meaningful ways, long after the activations done and dusted.
"Hey Bacardi Fan! Remember that photo booth moment we shared? Just wanted to catch up and see how you were doing?!"
Using a custom built microsite you can track emails, social media impressions and much more giving you data driven, measurable ROI from your activation.
Green screen pop-up photo booths are a powerful way to enhance any experiential marketing campaign. Impress both you're clients and your target audiences by using high quality images to bring brand experiences to life.
Trust me, we have photographic evidence…
So it's time to get ON it.
And make it snappy.
Conor
Xperiential Eventor